GOLDEN
WAVE II
25 Feet Panga style boat
Year: 2018
Engines: Twin suzuki df 60 year 2018
Gps and Fish Finder Garmin Echomap.
Radio VHF
Max speed: 30knots
It can accomodate up to 9 persons, with fresh water, toilets, T-top, Fusion music system.
Captain
Vic
Hello !
I'm Vic, 27, from south of France and i'm the Captain.
IGFA (International Game Fish Association) Captain/Guide.
Born in a fishermen family, i learned fishing very young with my father, godfather and grand father in the Mediterranean Sea.
After my sudies, I left France to travel at differents places and saw different country and ocean all over the world.
After visiting Mauritius, I decided to stay here, in this beautiful island because of its various biodiversity.
I like to share my passion with people from all over the world and i'll do my best to find the whales and make you happy !
See you soon onboard !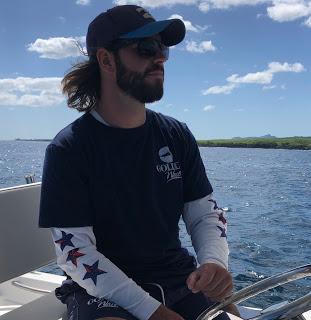 Golden Wave I
32 feet
7 pers Max
Golden Wave II
25 feet
5 pers Max

 

Whale
Watching
7 am to 10pm

Private Boat
Rs 17000
Private Boat
Rs 12000
Sharing Boat
Rs 2500 / pers

 

Dolphin
 & 
Whale Watching 
6am to 10pm

Private Boat
Rs 22000
Private Boat
Rs 15000
Sharing Boat
Rs 3200 / pers

 

Dolphin
Watching 
6am to 8am

Private Boat
Rs 15000
Private Boat
Rs 10000
Sharing Boat
Rs 2200 / pers
Learn more
about our sea excursions.